Emma Faye Rudkin Miss San Antonio 2017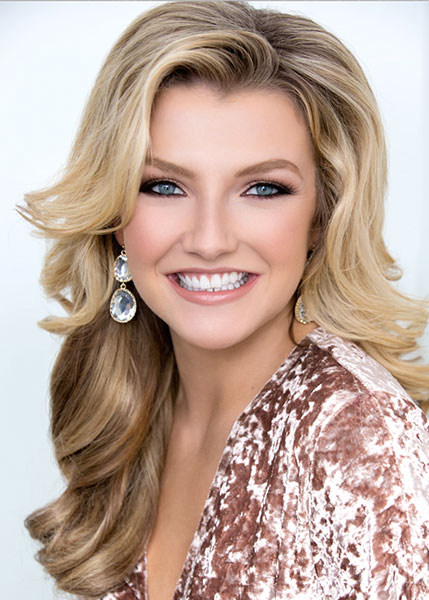 Pageant Information:
Competition Date:
September 24, 2016
Competition Location:
Josephine Theater, San Antonio, TX
Overview:
Emma Faye is an internationally-known role model for the deaf and hard-of-hearing (HOH) community and the founder of the nonprofit organization, Aid the Silent.  Aid the Silent is a system of support for the different branches of deaf ministry, deaf education, deaf research, and deaf resources.  The overall mission is to aid economically disadvantaged deaf children and teens to reach their full, unlimited, God-given potential and to live life more richly by providing access to hearing and speech resources, ASL lessons, as well as ministry-related activities.
Emma was Miss San Antonio 2015 where she took individual awards for Overall Talent, Overall Interview, and Miss Congeniality.  She placed Top 10 in the Miss Texas Scholarship Pageant 2015 where she won the Inspiration Award, Quality of Life Award, Academic Interview Award, and Spirit of Texas (Congeniality). Emma is legally deaf, sings, and plays four instruments: piano, guitar, ukulele, and the kick drum.
In the fall of 2016, Emma Faye was crowned Miss San Antonio 2017 being the first to hold this title twice since the first titleholder in 1923. She took individual awards for Overall Interview, Overall Evening Gown, Community Service Award, Photogenic, and Spirit of Texas (Congeniality).
Emma publicly advocated for the largest theater in San Antonio to offer captioning for their HOH/deaf patrons and won with Star Wars being the first movie played there with open captions.
She has had more than 21 TV appearances, two of which were broadcast syndications that aired in 50 markets. She has been featured on dozens of local and national print and digital publications nationwide.  She has given her testimony at 100+ speaking engagements in the last year.  When Emma is not at events or running the nonprofit, she dedicates any of her spare time as a staff member for the Greater Area San Antonio Young Life, a group dedicated to showing teenagers the great love of Jesus through friendships.  She started the pilot program for Deaf Young Life in the fall of 2016 in San Antonio, Texas.  Emma Faye has been a Young Life leader and Social Media Coordinator for three years with Boerne Area Young Life.
Accolades:
4th runner-up at the Miss Texas Competition

Quality of Life Award at the Miss Texas Competition

Community Service Award at the Miss Texas Competition